WPMC2021
Okayama, Japan
December 13-16
The 24th International Symposium on
Wireless Personal Multimedia Communications
will be held in Okayama, Japan
in December 13-16, 2021
Photo is courtesy of Okayama Tourism Association.
Principal Patrons and Sponsors
Grant Support Organizations
Academic Technical Sponsors (in progress)
The 24th International Symposium on Wireless Personal Multimedia Communications (WPMC2021) will be held in Okayama, Japan from December 13- 16, 2021  , one year postponement caused by worldwide pandemic of Corona infection. The theme of this year's conference is "TBD".  This event is co-hosted by Okayama University, National Institute of Information and Communications Technology (NICT), Yokosuka Research Park (YRP) and CTIF Global Capsule (CGC).
The WPMC symposium series were inaugurated in 1998, as a global platform which aims at enabling collaboration in the field of wireless information. Held in Asia, Europe and America, WPMC has established itself as a unique global conference dedicated to wireless multimedia convergence. Continuing the series, the 24rd WPMC will bring together academia, industries and standardization bodies to explore activities, trends and future challenges towards ICT globalization for health and wellness issues in existing and future wireless technologies.
A key emphasis of this conference is "Global platform for convergence of wireless technology and businesses", which provides border less smart society – bridging across industries, public and private companies, universities, research labs, and other knowledge societies in exploration of the newest wireless technologies pursuing new ways of living as well as innovative and sustainable solutions for the future.
We look forward to receive your contributions and to see you at the conference of WPMC2021.
Greeting from General Chair (Under rearrangement)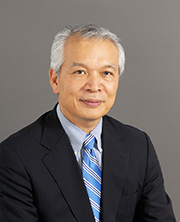 It is my great pleasure to hold the 24rd International Symposium on Wireless Personal Multimedia Communications, WPMC 2021 at Okayama, the land of sunshine in Japan.
The WPMC symposium series first commenced in 1998, as a unique international conference dedicated to wireless multimedia communications aiming for global collaboration. The symposium is widely held in Asia, Europe, America, and other regions, and growing year by year.
At this symposium I hope that all participants enjoy technical presentations and social events, as well as related discussions and experiences at Okayama. The symposium will surely allow participants to expand their field of view.
I would like to take this opportunity to thank to Honorary Chair of WPMC 2021, Prof. Hirofumi Makino, President of Okayama University, and all distinguished committee members and relevant staff of this symposium.
Dr. Hideyuki Tokuda,
President, National Institute of Information and Communications Technology, Japan